Whether you're exclusively bottle-feeding or just supplementing at night, you'll want to have several accessible bottles. The number of baby bottles you'll need is based on the frequency and primary method of feedings.
While pregnant, many women forget to ask the simple questions, such as "how many bottles do I need?" While there is no exact number, most parents will want enough bottles to prevent having to rewash the same set too frequently throughout the day.
"The number of bottles you'll need to own can range from about 4 to 12, depending on whether you'll primarily be bottle-feeding or breastfeeding," says BabyCenter. "Start with 4-ounce bottles. They're perfect for the small amount of breast milk or formula newborns eat in one sitting."
I exclusively formula fed both my babies. I started with just three 4-ounce bottles but soon found that wasn't enough. I constantly had to stop what I was doing to rewash the bottles several times a day, especially during those early days when they ate every two to three hours.
What Bottle Types are Available?
When shopping for baby bottles, you'll discover that there are many different types. Most bottles are made from lightweight plastic, while others are constructed of glass, silicone, or even stainless steel. Baby bottles are also available in several sizes, ranging from 4-ounce newborn sizes to 12-ounce varieties.
What Nipple Types are Available?
While you can purchase bottles already equipped with nipples, some parents choose to buy them separately. While most nipples feature a similar design, they are available in several sizes and flow control.
Newborns will require a smaller nipple with a slow flow as they feed more slowly than older babies. Anti-colic nipples are also available. This type of nipple prevents air from filling your baby's belly while feeding.
How Many Bottles Will You Need?
If you are exclusively breastfeeding your baby, you may think that you don't need any bottles. However, it's best to have at least one or two in the event of an emergency or if you have a date night and need to pump.
If you are exclusively bottle-feeding, it's idea to have enough bottles to last the day. Start with around six bottles and acquire more if needed. If you're doing a combination of breastfeeding and bottle-feeding, three to four bottles may be enough.
Five Excellent Baby Bottle Options
Dr. Brown's Original Bottles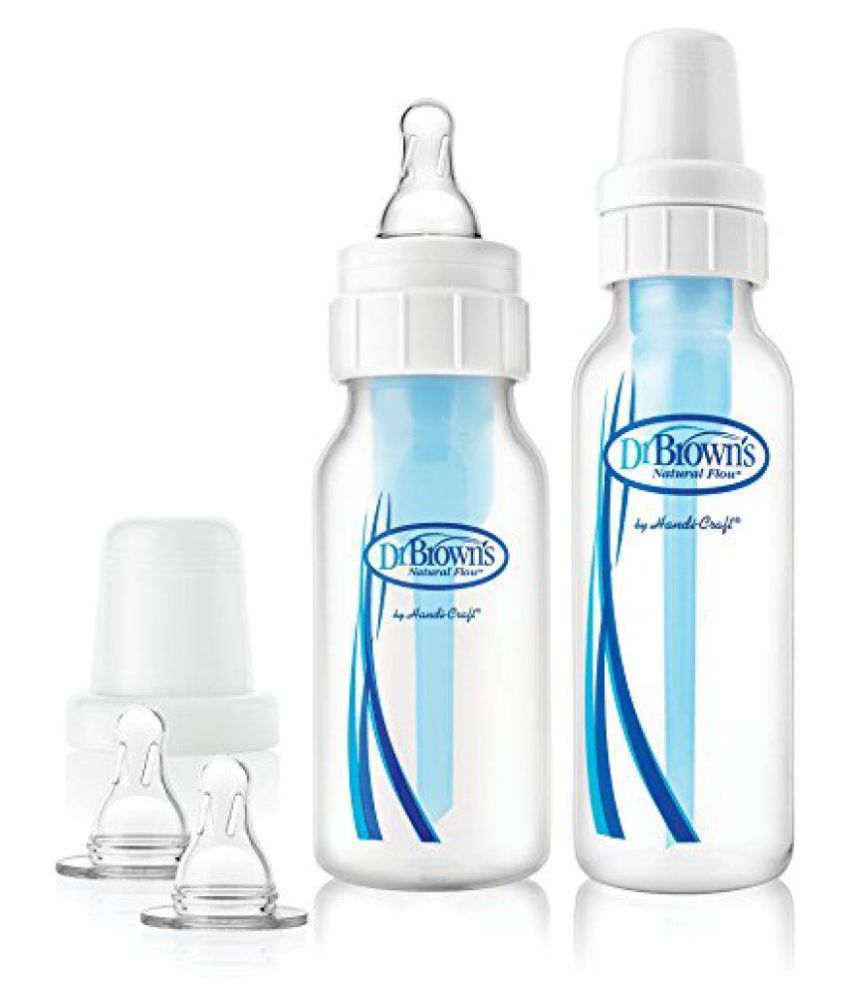 After trying Dr. Brown's Original Bottles, I gave up on all other brands. These tried and tested baby bottles feature a special venting system that helps prevent gas and colic and reduce spit-up and burping. The vacuum-free feeding is beneficial for tiny digestive systems by eliminating air bubbles in the milk or formula.
Comotomo Natural Free Baby Bottles

It's not always easy to find a good baby bottle. What I liked about the Comotomo Natural Free Baby Bottle is its innovative design that closely mimics natural breastfeeding. The soft silicone nipples are naturally shaped, perfect for babies who have difficulty transitioning from the breast to the bottle. Many babies also like squeezing the soft bottles.
Playtex Ventaire BPA-Free Bottles

The Playtex Ventaire is a BPA-free bottle with an anti-colic vent that helps prevent gas, fussiness, and spit up. At the bottom of the bottle sits a tiny micro-channel vent that keeps the air at the back of the bottle, meaning no air gets mixed into the milk or in your baby's belly.
The unique angle of the bottle also promotes semi-upright feedings, which have been found to help prevent ear infections.
Tommee Tippee Closer to Nature Bottles

Tommee Tippee is a leader in baby bottles, having won the '2016 National Parenting Product Awards'. They're also a 'Mom's Picks Finalist' and 'Most Awarded Baby Bottle Brand'.
The breast-like nipple allows for an easy latch and a smooth transition between the breast and bottle. The BPA-free bottle also provides an optimum venting valve with a slow flow nipple.
Munchkin Latch Baby Bottles

Munchkin Latch Baby Bottles offer a better feeding experience. While breastfeeding, the baby controls milk flow by applying pressure to the base of the nipple. The Latch bottle does the same by releasing more milk as the base of the nipple receives more pressure.
The accordion-style nipple also moves as your baby's head moves, reducing the amount of air swallowed and helping your baby maintain her latch.
New parents often make the mistake of buying too many or too few bottles. You'll often find bottles in packs of three, which can save you money on multiples. Bottles typically last about six months before they need to be replaced.
Rubber nipples will need to be replaced every two to three months, according to Sutter Health CPMC. Replace bottles or nipples immediately if they crack, break, or become discolored.