From sea shells to seashores, under the sea-themed decor will brighten up any nursery. Discover fun and creative ideas for your little one's room.
Create a whimsical underwater nursery theme that will make your baby feel comfy and cozy in his new bedroom. The colorful, gender-neutral theme is suitable for both boys and girls and can be gradually modified to grow with your baby.
Welcome your bundle of joy home with the following under the sea nursery décor ideas.
Sea Life Wall Art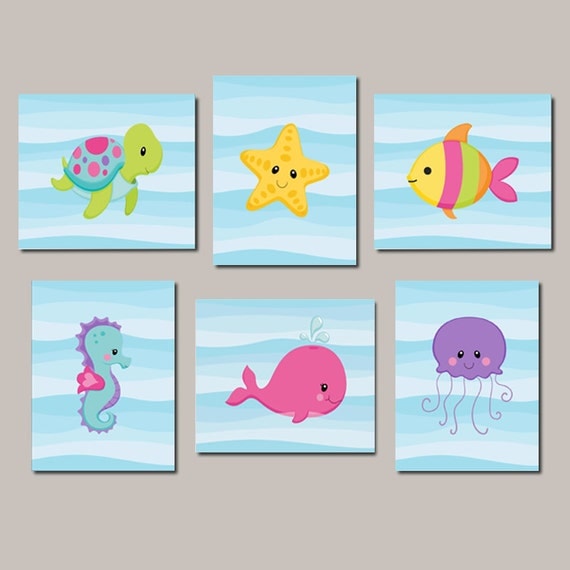 Capture the spirit of the ocean with these adorable canvas prints. The prints are available in a variety of sizes and can be color customized to complement your baby's nursery. Securely hang the prints over the crib to create a focal wall or spread them out throughout the room to create splashes of vibrant color.
Nautical Fishing Net
Use a piece of fishing net as the backdrop for your favorite under the sea décor. Leave the net as is or spray paint it to match the nursery theme.
Add ornaments like ship wheels, fish-shaped cutouts, or sea stars. Use painted wood lettering to spell out your baby's name across the net.
Sea Themed Baby Mobile
Bring the wonder of the deep sea into your child's nursery with a marine-themed baby mobile. This sea themed baby mobile is handmade with buyer's choice of colors, musical options, and wood frame colors. Similar under the sea nursery mobiles can be found online at all price points.
Under the Sea Wall Decals
You won't need snorkels or goggles to enjoy this underwater mural. Simple and affordable, these under the sea wall decals can instantly transform your little one's room into an underwater sea aquarium.
Just peel and stick the non-toxic, odor-free stickers directly to a painted wall. The high-quality decals won't curl, shrink, or wrinkle, and will not leave sticky residue behind.
Quote Wall Art
There's no shortage of cute under the sea quotes to inspire you to create your own quote wall art. This popular 'count the waves' quote was sketched on a primed canvas, then hand painted.
If you don't have an artistic flair, print your favorite quote onto paper and frame it.
Seahorse String Art
Nail art is a fun, easy, DIY project that nearly anyone can do. While this piece of nail art takes the form of a charming seahorse, you can choose nearly any other sea animal as your inspiration.
This project requires a piece of scrap wood, paint, nails, and crochet thread or other type of resilient string.
Jellyfish Paper Lanterns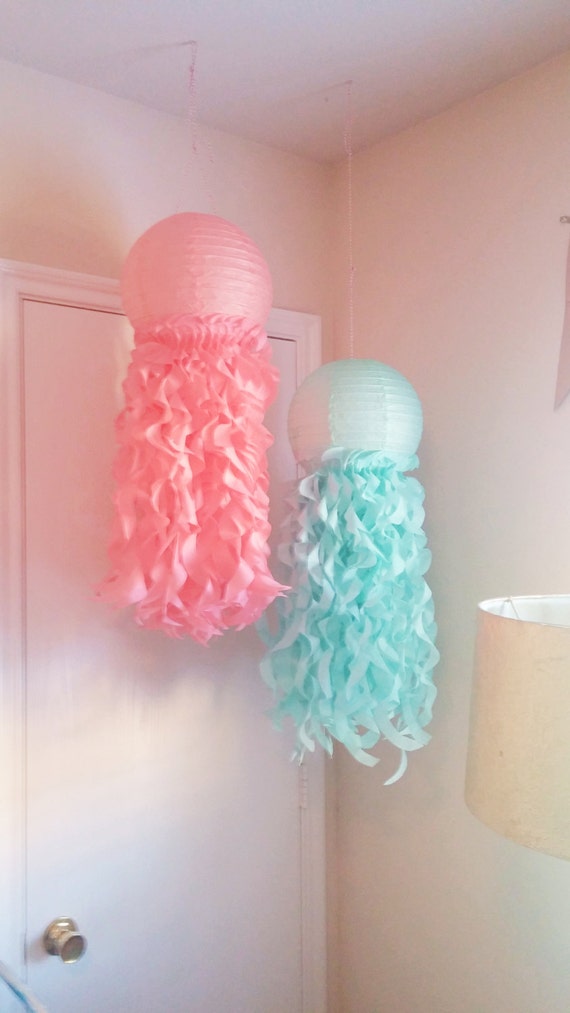 Pastel jellyfish paper lanterns are the perfect addition to your under the sea nursery. Swirling streamers hang down to resemble the tentacles of a jellyfish. Leave the lanterns as is or add battery-operated lights inside to create a warm glow. If you prefer to make your own jellyfish paper lanterns, this DIY project tells you how.
Enjoy snuggling your little one while surrounded by friendly fish, magnificent mermaids, and other lively sea creatures. These under the sea nursery ideas are only the tip of the iceberg. There's plenty more imaginative décor to create an enchanting nursery theme.